JOIN OUR AFFILIATE PROGRAM
Wouldn't it be cool to get paid to improve the mental health of your community?
Yeah, we thought so, too.
Who would make a good affiliate?
+ Social media influencers
+ Mental health advocates
+ Community & group leaders
+ Clinics & treatment centers
+ Counselors & coaches
+ Nonprofits & organizations
+ Artists & musicians
+ Small business owners
The form below will ask you to create an affiliate code. This isn't a coupon code that you'll have to memorize; instead, it's a unique identifier that we'll use to generate your affiliate link and track your commissions.
After you submit the form below, you'll receive an email from us. This is where you'll find your unique affiliate link, which is the url you'll use to drive subscriptions and collect commissions. If you can't find the email, be sure to check those pesky spam, promotions, and trash folders.
We won't share your link with anyone, so feel free to get crafty when spreading the word:
Include it in your social media bio
Share it in Facebook groups and chat rooms
Write a blog post and hyperlink our name
Send out an email blast to your contact list
Add a banner or button to your website
Create graphics and videos with the link in the description
Send it directly to friends and family
Shout it from the rooftops!
You'll receive a 15% commission for every transaction made through your affiliate link. Your commissions will be automatically paid at the end of every month via PayPal.
If a certain month's commissions are below the $25 payout threshold, don't worry—they'll just roll over into the following month until your commission balance meets or exceeds $25.
BECOME AN AFFILIATE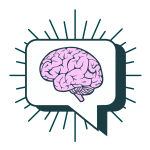 Spread mental health awareness and start earning today!