think
healthier
thoughts
With just one text a day, you can train your brain to combat
stress., anxiety., loneliness., negativity., fear., anger., doubt., worry., panic., insecurity., depression., guilt., shame., grief., regret., insecurity., hopelessness., frustration., bad moods.


All for less than $10/month.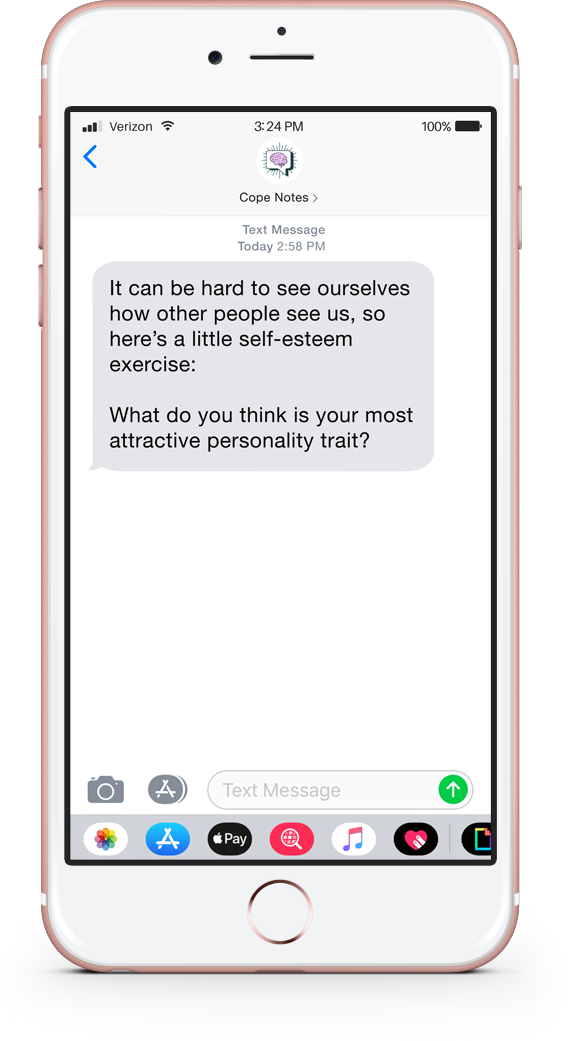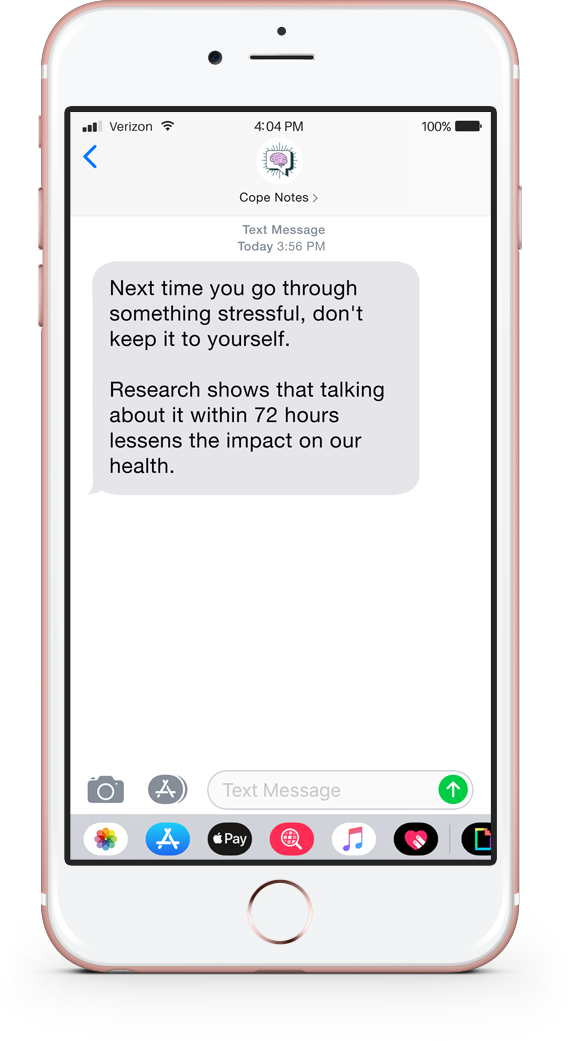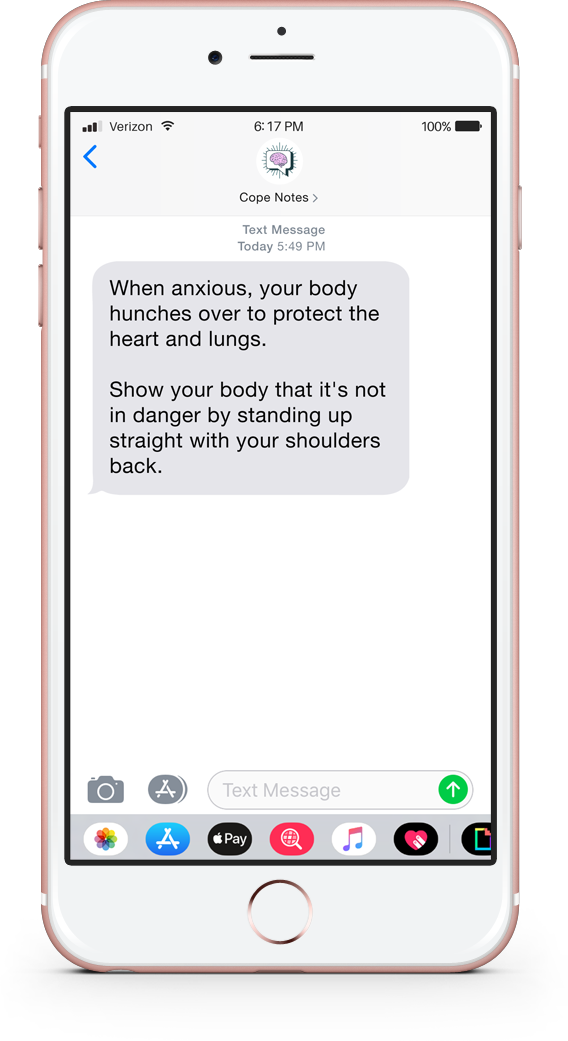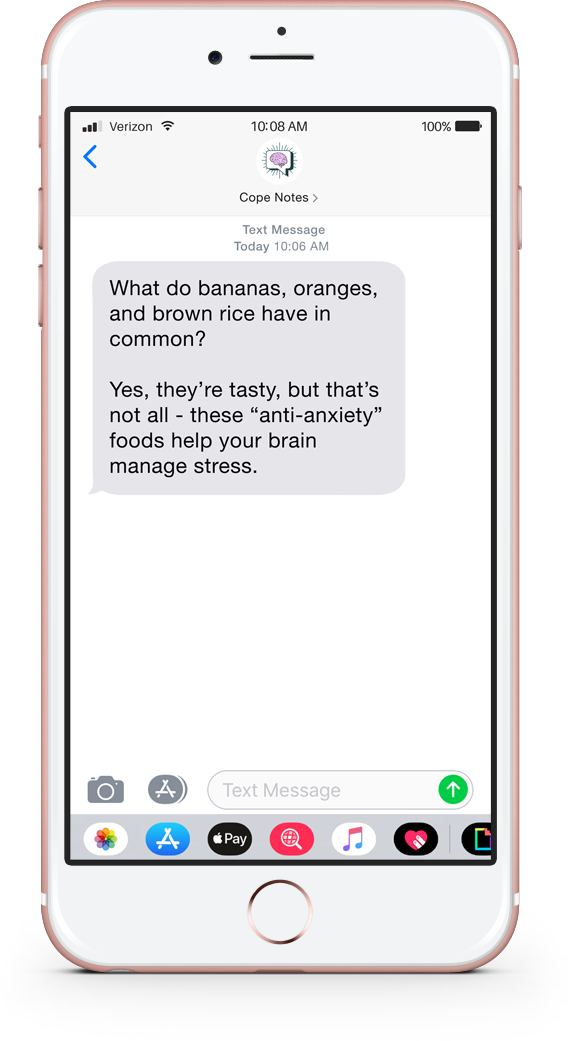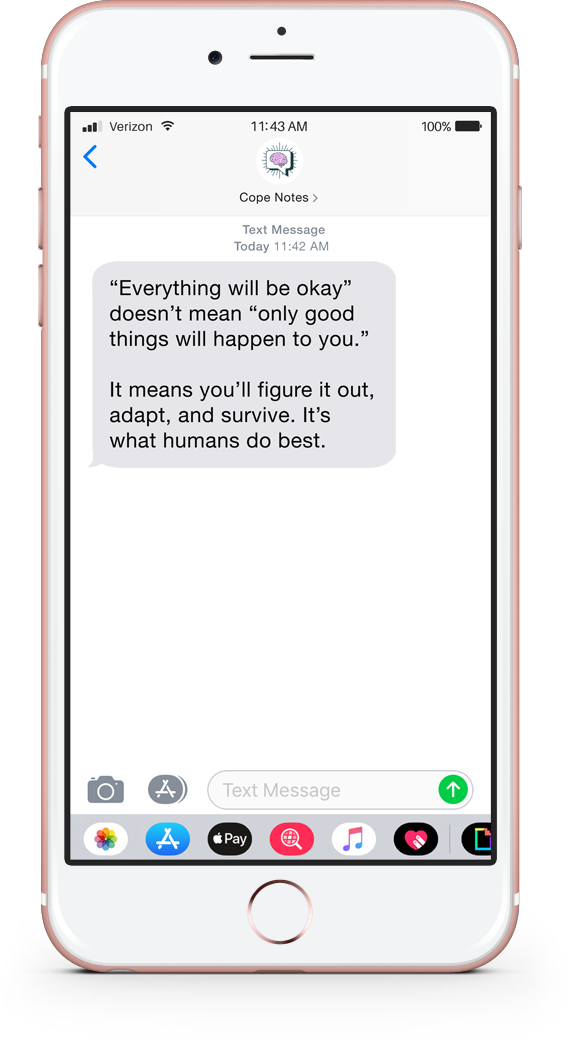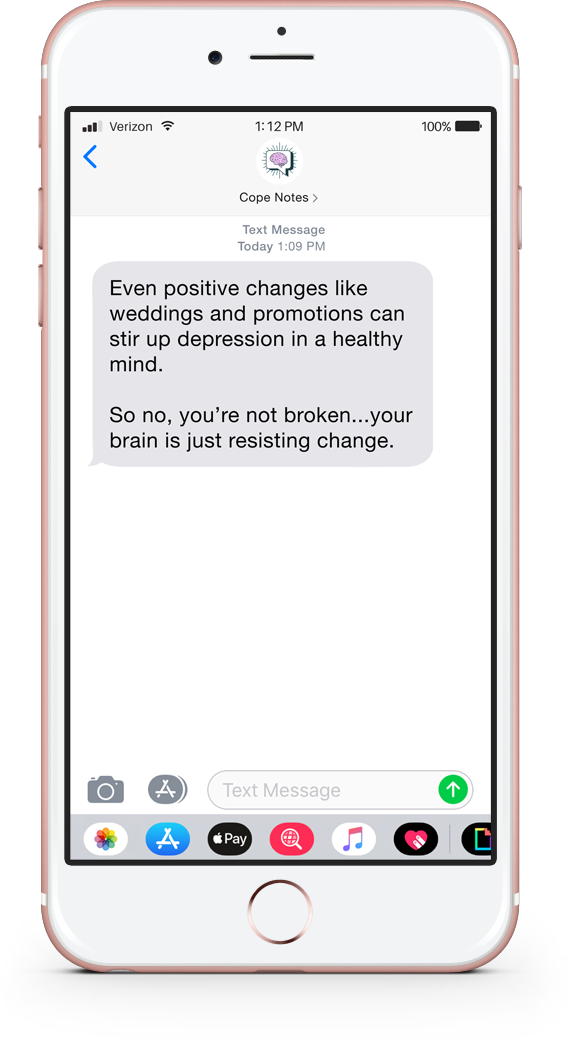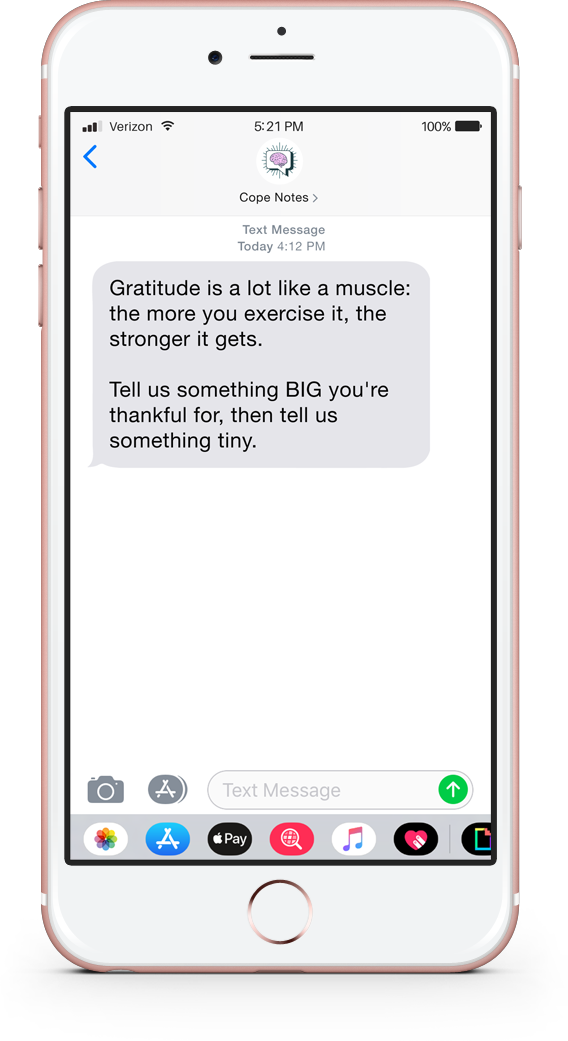 peer support in your pocket
Daily exercises, advice, encouragement, and more.
Sent straight to your phone at a random time each day.

This isn't a counseling session. This isn't a therapy app.
It's the best first step towards a healthier brain.
"Powerful"
"One of the most powerful components of Cope Notes' messages is that they're developed by people with lived experience managing an array of stressors and mental health conditions. Research suggests that peer support is a powerful force in helping people achieve stability and recovery."
---
"Honestly, it has changed me"
"I didn't know how much I would appreciate this kind of service until I signed up. I can feel myself light up just seeing 'Cope Notes' pop up in my notifications. This sounds too good to be true, but the science really feels like it's working."
---
"I'm in tears"
"DUUUUUDE! I'm laying here exhausted, overwhelmed, and feeling resentful. Then I get a text that basically says, 'Thank you for everything you did today.' I'm crying! THANK YOU! I REALLY needed that right now! I instantly regained my perspective."
---
"It feels personal"
"I can't recommend this tool highly enough! It's like the folks at Cope Notes are in my head and know what I need to hear and when."
---
"Innovative"
"Cope Notes can have a positive impact on anyone's mental health, but especially that of young adults. As modern solutions move further and further into telehealth, we need to include more innovative technologies like this one."
---
"Every parent needs to know about this"
"My son is a freshman in high school, and that's a tough time for a lot of kids. I signed him up for Cope Notes, praying it would help, and I can already see it working. He doesn't always listen to me, but he sure does listen to his phone!"
---
"I was skeptical at first"
"When my sister signed me up for the free trial, I wasn't convinced. But after a few days of getting the perfect text at EXACTLY the right moment, I was sold. I'm already feeling more like myself. Kinda can't believe it works, tbh."
---
"Cope Notes is a gift"
"Cope Notes keeps me mindful of the big things and how it all fits together. Randomly spaced big picture texts help me stay present. That's a gift."
---
"Exciting"
"As a forensic counselor, I often wrestle with stress and negativity, which is mentally exhausting. With Cope Notes, I maintain a more positive outlook! I find myself wondering when my next text will come and what exciting information it will bring. I recommend Cope Notes to family, friends, co-workers, and even my own clients!"
---
"Brilliant"
"Most resources depend on the user to reach out, but Cope Notes actually takes the initiative to meet people where they are. This is arguably the first mobile tool in the mental health arena that's truly interventional. It's helpful, funny, user-friendly, and always there when you need it."
---
"Critical"
"Cope Notes just may be the critical link between technology and healthy brain development. While supportive services are hard to access due to our location, Cope Notes has proven to be a great asset for our rural youth in need."
---
"A breath of fresh air"
"In such a negative era, the gift of positivity is a breath of fresh air. At its core, that's what Cope Notes is all about: using that positivity to help individuals achieve and maintain true mental wellness."
---
"I looked everywhere"
"You wouldn't believe how much time and money I've wasted trying to screw my head on straight. My life coach was $125/hr. I'd drop $100 at a bar just to forget how I felt. Wish I found this 9 years ago. THANK YOU for making a tool that actually HELPS."
---
"Much-needed"
"Cope Notes is one of the few mental health resources that are immediately accessible to the deaf and hard of hearing communities. These texts are uniquely poised to address the troubling suicide trend among people who have hearing loss and those who do not."
---
"The possibilities are endless"
"The possibilities are endless for how this service can improve mental health literacy within a workplace, family, or individual. More importantly, I'm happy to support a service that is built on evidence-based principles that are most often used in professional settings."
---
"Real, heartfelt, awesome"
"During a time of massive upheaval and change, Cope Notes has been awesome. They are real, heartfelt, and have helped me remember lessons that seem particularly hard to access and recall when I'm in such a dark and overwhelming place."
---
HOW WE HELP YOUR BRAIN STAY HEALTHY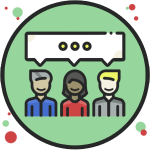 PEER-BASED SUPPORT
From advice to encouragement, every text is written by real people with real problems, just like you.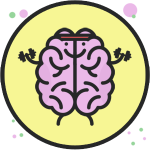 POSITIVE PSYCHOLOGY
Each note is reviewed by doctors, counselors, and other smart folks to make sure it'll actually help.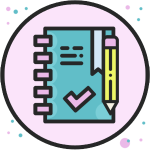 digital journaling
It's easier to process your emotions when you have somewhere safe to vent. Text us whatever, whenever.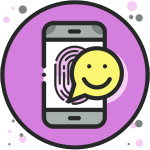 UNIQUE MESSAGING
No two people are identical. That's why no two subscribers ever receive the same text at the same time.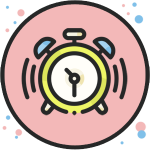 randomized timing
Our unpredictable schedule keeps your brain from tuning out the good stuff when you need it most.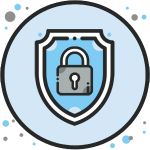 privacy protection
Keep your personal info personal. We don't even need to know your name. Anonymity guaranteed.